Staying away from traditional pasta is a good idea if you're diabetic and want to lower blood sugar and A1c. And even if you want to lose weight and feel better it's still something that's best avoided.
So a question we get asked a lot is: "Are there low carb alternatives that actually taste ok?" and "Where can you buy low carb pasta alternatives?"
The answer is YES there are plenty of edible low carb pasta options. You can definitely survive without 'traditional' style pasta. As for where to buy low carb pasta, you can find some options at your local supermarket. But if you don't mind shopping online, then you open up your options a lot.
To help save you time and doing the research, we've gathered some options together for you from Netrition and Amazon.
Pasta Nutrition
Before looking at the types of low carb pasta options you have, let's just consider the amount of carbs in traditional pasta options.
As you can see, we're looking at around 20 g carbs per serve. And just remember this is a very small serve, just half a cup, which looks like this.
People often eat A LOT more than this at one sitting, often 3 times as much, which pushes the carb count up to 60 g per meal!
So when looking for a low carb option we want to consider net carb totals and also serving sizes. That way we can enjoy a bigger bowl and be much less concerned about high blood sugar levels.
And just be careful, if you look around you might see brands like Dreamfields, which say they are low carb, but they're really not. They include higher levels of fiber and protein to some other pastas, but they are definitely not low carb.
The key rule is to always read the nutrition labels, that way you know for sure!
Low carb pasta alternatives you can buy
Konjac noodles: Japanese low carb noodles
I wrote tons of info about konjac noodles over here recently and these are one of my favorite low carb options because they contain zero carbs!
Konjac is an Asian plant where they use the root to make a 'yam cake' then put it through sharp blades to make noodles. They noodles themselves have zero carbs and are mostly made of fiber. Eating the konjac fiber has also shown good benefits for diabetics.
Although you can sometimes find konjac noodles at the supermarket, I buy my konjac noodles in bulk online because it tends to be cheaper.
You can either buy them from somewhere like Amazon, or directly from a supplier like Miracle Noodles.
You can get:
You might like to purchase a mixed pack so you can give a few different varieties a try.
I use konjac noodles a lot and I'd highly recommend them – check out this awesome Creamy Mustard Chicken Recipe we shared recently.
Ciao Carb Traditional and Proto Pasta range
Netrition has a lot of great low carb diabetic friendly foods and one of those is the Ciao Carb pasta range.
The regular range has 12 g carbs for a 50 g serve, which isn't too bad if your sauce doesn't contain too many carbs – and there's no need for it to!
Ingredients: Isolated soy protein, egg white, wheat gluten, wheat flour, wheat fiber, stabilizer, guar gum E412, psyllium.
This penne pasta costs $3.49 for a 8.8 oz/ 250 g pack.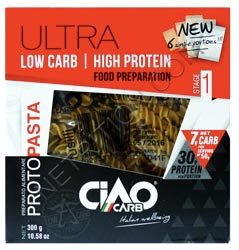 Ciao Carb also have a Proto Pasta range, which comes in at just 7 g carbs per 50 g serve. That's about a half cup serve, so if you doubled your intake you'd still be keeping your intake to around 14 g net carbs.
It's $4.99 for a 10.5 oz/ 300 g pack. It comes in a fusilli, pasta rice, a penne, and a tagliatelle. All versions of the Proto Pasta range are 7 g per serve, so it is a much better option to their standard low carb range.
Ingredients: Isolated soy protein, pea protein, wheat flour, wheat gluten, wheat fiber, egg white (5%), stabilizer: guar gum.
Explore Asian: Organic Soybean & Black bean Spaghetti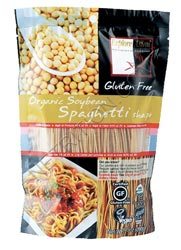 The organic soybean spaghetti contains 7 g net carbs per serve, at $3.49 for a 7.05 oz. (200g)pack.
Ingredients: Organic Golden Soybean, Water.
The black bean spaghetti is a black spaghetti!
It's the same price as the soybean spaghetti and comes in with a little less carbs at 5 g net carbs per serve.
Ingredients: Organic Black Beans 92%, Water 8%.
Carba-nada low carb egg pasta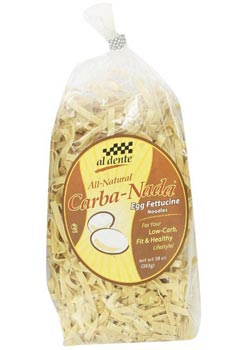 This Carba-Nada pasta is low carb compared to traditional pasta. Traditional pasta has around 20 g carbs per 1/2 cup pasta, whereas this Carb-Nada pasta has 18 g carbs per 1.5 cups pasta. So if we cut the serve in 3, we're left with 6 g compared to 20 g for the same size serve, which isn't too bad.
Egg pasta still uses some flour but they use eggs to make up the difference, and since eggs are a protein, that significantly lowers the carb count.
Ingredients: Enriched Semolina Flour, wheat gluten, malto-dextrin (fiber), digestive resistant cornstarch, soy flour, water, whole eggs.
A 10 oz. bag will cost $7.07 but you can get it cheaper by buying a pack of 6 for $19.97 bringing it down to $3.32 bag.
Quest Pasta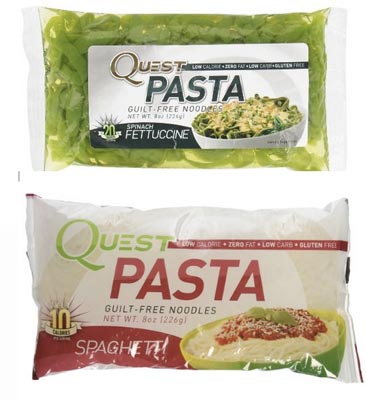 If you  were to do a search for low carb pasta options, you might come across Quest pasta.
Quest is a popular low carb brand that does have a lot of diabetic friendly products. Their Quest pasta is basically just konjac noodles. For an 8 oz / 226 g pack you're looking at $8.95 per pack, which is for 2 servings.
But if you buy it in bulk, you can slash the price to $3.49 per pack. A 12 pack of spinach flavor costing $41.99.
Quest pasta has zero carbs.
Ingredients: Water, glucomannan fiber, calcium hydroxide.
ThinSlim Foods Impastable Low Carb Pasta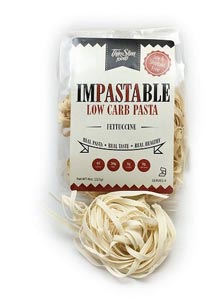 These pasta noodles are made from various fibers, and because of the high amount of fiber the carb count per serve is only 8 g.
Ingredients: Oat fiber, wheat fiber, wheat protein isolate, egg whites, durum flour.
For a 6 pack of ThinSlim pasta costs $49.99 on Amazon, which is $8.33 per pack, so they are on the higher price side.
But if you buy them from Netrition you'll get them for $7.99 per pack.
Kelp noodles
Kelp is seaweed, so to make the noodles they remove the outer layer of the seaweed to reveal the inner 'noodle' like structure. Kelp noodles are very nutritious, full of vitamins and minerals.
Sea Tangle kelp noodles are the brand you'll most likely find. They are okay but their texture isn't soft like pasta, it's more a crunchy style noodle. This means they work well in salads, or where you don't mind having a bit of a crunch.
Like konjac noodles, they have zero carbs. They also have no flavor so they can be included in almost anything.
A 12 oz pack of kelp noodles will cost around $6-7 per pack on Amazon, or from Netrition you'll pay just $3.09.
Carb Counters Skinni Spaghetti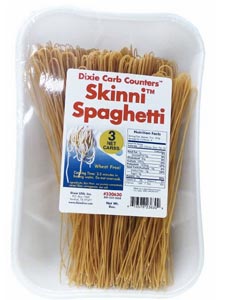 This spaghetti does seem great with only 3 g net carbs.
It's made with soy flour, soy protein, and fiber.
But again the price seems a little on the high side at $8.49 for an 8 oz. serve. And it doesn't seem to be all that popular, only having 2 reviews on Amazon, one good, one bad.
Make at home low carb pasta alternatives
Zoodles & Carroodles
Recently I wrote about how great the Paderno spiral vegetable slicer is.
One of the reasons it's so great is that it makes homemade pasta/ noodle making a breeze. You can make zucchini or carrot noodles that can be used to replace pasta – I call them zoodles and caroodles.
Here's one of the dishes we've got coming up soon.
Or blend the zoodles with the caroodles for a noodle twist.
Another homemade option is to use shredded cabbage and either steam it or saute it in a pan. They are much like noodles and can easily be used as a bed for your bolognese sauce.
Whatever option you choose I hope I've shown you that there are plenty of low carb options to eating 'traditional' style pasta. All of these options are going to be better for you than eating regular pasta.
My favorite choices are konjac noodles, zoodles and carroodles – I always go for a veggie option where possible because it provides more vitamins and minerals. 🙂
BON APETIT!