We all love to eat something crunchy occasionally, or have a cracker to put cheese and tomato on, or even something to dip into a guacamole or favorite dip.
But lots of people struggle with finding diabetic friendly low carb crackers.
It's no surprise because most of the crackers you'll find at the store are high carb options – we covered that in the Saltine crackers post over here.
Just so you know, you're not destined to munch on carrot sticks alone because there are lots of cracker options. You can either buy some low carb options – I've helped go over a few below.
Or if you want to whip up some of your own, then check out our zero carb cracker recipe below. Making your own crackers is actually pretty easy and I prefer it because it always works out cheaper.
Diabetic Friendly Crackers
Just so you know, some links in this post are affiliate links, meaning we make a small commission if you purchase something, at no extra cost to you. Thanks in advance because it helps pay our bills so we can continue to provide free info on the blog. 🙂
When buying crackers you want to stick to products that predominantly use low carb flours like flax, chia, coconut flour, or nut flours.
It's often difficult to find low carb crackers in the supermarket, so buying them online from places like Amazon or Netrition is usually the best way to go. Here are a few options to explore.
Low Carb Cracker Options From Amazon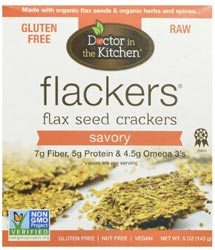 Dr in the Kitchen Flackers flaxseed crackers
Inside the Diabetes Meal Plans Members Club, we've got our own flax/sesame cracker recipe. It's easy to make but if you want an option that's similar, these Dr in the kitchen crackers are the ones.
$5.69 for a 5 oz / 142 g pack.
Ingredients: Organic Flax Seeds, Organic Apple Cider Vinegar, Bragg Liquid Aminos (Vegetable Protein from Non-GMO Soybeans and Purified Water), Organic Garlic, Organic Onion, Organic Red Chili Pepper, Organic Basil.
6 crackers = 1 g net carbs.
LC Flax Chia crackers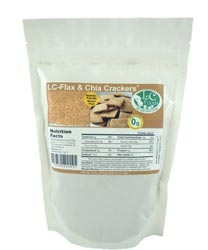 Zero carbs.
$8.38 for 1 8 oz/ 226 g pack.
Ingredients: Organic cracked flax seed, organic chopped flax seed meal, salvia Hispanic L. milled chia seed grains, chia seed meals, and natural dietary vegetable plant fiber.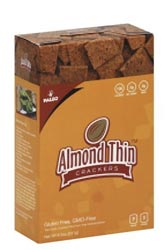 Julians Bakery
This company has really good low carb products but they are very expensive, out of the price range for most people I'd imagine.
Even a bulk pack of 12 will cost you $11.50 per 8.5 oz/ 241 g box.
Ingredients: Almond Flour, Organic Flax, Chili Powder, Onion Powder, Sea Salt
20 crackers = 4 g net carbs.
Blue diamond nut thin cracker snacks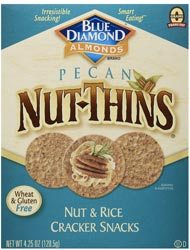 A bit higher in carbs but if you have 8 crackers it would be 11.5 g so that's not too bad I guess.
$3.29 per 4.29 oz/ 120.5 g box.
Ingredients: Rice flour, pecan meal, potato starch, expeller pressed safflower oil, salt, natural pecan flavor and natural butter flavor.Contains: Milk. Produced in a facility that also makes products containing: Soy, almonds, hazelnuts and wheat.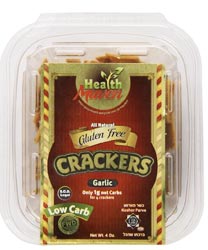 Health Maven Gluten Free Crackers, Low Carb crackers
$9.25 for 4 oz/ 113 g pack.
8 crackers = 2 g net carbs.
Ingredients: Almond Meal, Whole Eggs, Garlic, Salt. Contains Eggs and tree nuts (Almonds)
Kitchen Table Bakers Mini Crisps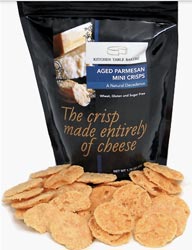 $6.99 1.75 oz/ 50g pack.
Made entirely with cheese makes the crackers/ crisps come in at zero carbs.
As you can see, there are low carb option for crackers, but saltines are definitely not one of them. Even if you stick to the recommended 5 saltine crackers, you're still looking at 35 g carbs per serve, which is way too many carbs.
The Dr in the Kitchen Flackers flaxseed crackers are the most popular and cost effective option. Also consider looking in your local health food store to see if they have other options.
Low Carb Cracker Options from Netrition
Netrition is another online store that is perfect for US residents, with low shipping rates. They also ship Internationally but just make sure you check the shipping policy for your country.
Andre's CrackerBread
These are a great price of just $3.99 for a 4 oz/ 113 g box and they come in a range of flavors from plain, Parmesan, garlic, sesame, and even a sweet cinnamon.
They are a larger cracker that is well suited to lunches – stack them up with your favorite tasty ingredients.
3 crackers = 4 g net carbs.
Ingredients: Soy, almond, hazelnut flour, water, canola oil, natural cheddar flavor, xanthan gum, salt.
Smackaroos Low Carb Crackers
These come in a variety of flavors from plain, onion, garlic, and Parmesan.
They are a little more expensive that Andre's Crackerbread at $4.95 for a 4 oz/ 113 g box but they are also lower in carbs – meaning you can eat more of them.
3 crackers = 1 g net carbs
Ingredients: Flour (Soy/Almond/Hazelnut/Gluten), Water, Soybean Oil, Cinnamon Powder, Baking Powder (Sodium Acid Pyrophosphate, Sodium Bicarbonate, Corn starch, Calcium Phosphate), Salt, Sucralose.
Always read the labels!
Or better yet, make your own.
Low Carb Crackers Recipe
We use a combo of flax seed meal and sesame flour to make our crispy crackers. These are both zero carb diabetic friendly flours.
Flax seed meal/ flour, is not expensive. For a 12-16 oz/ 340-450 g pack of flax meal it will only cost around $3.50. And sesame flour is just $15.39 for a 2 lb/ 4.4 kg bag, or $11.49 for 1 lb/ 2.2kg. You can store both of these flours in airtight containers for months, so making your own definitely turns out more cost effective.
These crackers are crunchy. They will keep in an airtight container for 1-2 weeks. They are high in fiber and contain zero carbs. Best of all, they contain just 4 ingredients.
Zero Carb Cracker Recipe
I love these crackers because you can make them small, sandwich size, or bite sized for dips. Try adding a twist of flavor with some onion powder or herbs.
Give them a try because they really are great. 🙂